MAGIC MIRROR FINISH
Ideal in order to limit the installation work in your elevator, this set advantageously replaces the rear cabin mirror, it is easily fixed to the wall thanks to its mounting bracket.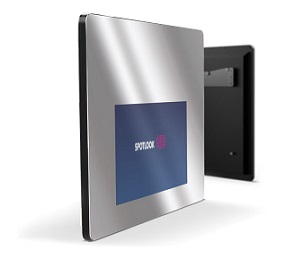 IN REPLACEMENT OF THE BOTTOM CABIN MIRROR

The easiest way to seamlessly integrate a screen into your elevator. Secure the 'Magic Mirror' assembly to the cabin wall, replacing the regulatory mirror.

CUSTOMIZED DIMENSIONS

Our 'Magic Mirror' set is available as standard in dimensions 1000 x 1100 mm, and includes a 22 or 27 inch screen. It can be done on your own, in order to adapt perfectly to your constraints.